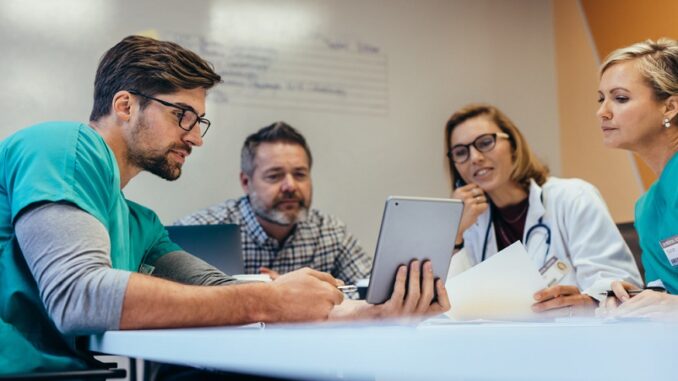 Search engine optimization (SEO) is a term for all the practices which allow search engines to find whatever you are posting online. Some degree of SEO is essential for the success of blogs, ecommerce sites, websites and, as it happens, the listings on healthcare job boards. Depending on where a healthcare job vacancy is posted, there may already be some degree of SEO implemented by the host site. Health Jobs Nationwide, one such site which offers, among other, registered nurse jobs, advises that the postings themselves are optimized for SEO. Most healthcare recruiters are fully invested in SEO. It's just one of the many things that can give a recruiter the edge over the fierce competition. If the perfect candidate finds your posting and not the next guy, then you're already doing a fine job of weathering the talent dearth and ultimately contributing to well-staffed healthcare institutions – which is something that everybody wants.
How SEO Works for Job Vacancies
When we speak of SEO, we are usually only talking about one search engine – Google. It isn't that Google has a monopoly on internet searches, but rather that it is by far the biggest one, that appearing on page one of Google results pretty much guarantees you'll be similarly successful on the other ones too. There are many different things that drive SEO and success on Google, but when it comes to job vacancies, we're mainly talking about text. This means, first and foremost, using the correct keywords. It is keywords that create clicks, because it is those same keywords that potential candidates will type into search fields when searching for a job vacancy. However, when it comes to healthcare jobs, recruiters should note that candidates are rarely typing things like "physician assistant vacancies" into Google itself. They are using healthcare job recruitment boards and websites, and it is to your own website (or the jobs board your vacancy appears on) that you'll want to drive this internet traffic towards. Accordingly, keywords are not always the most obvious ones. Rather, they are the ones that will show up on a Google search, perhaps even when potential candidates are searching for something else entirely, and which you should be prioritizing. That said, you should also remember that sometimes it won't just be the recruitment site that will pop up on Google. It can actually be the link to your vacancy itself that can show up. This is the jackpot. It's great if traffic is drawn to whatever site your ad appears on, but it's even better if it is drawn directly to the ad itself.
How to Find the Right Keywords
So, keywords are king. But there's one more challenge that awaits the recruiter after this realization – what actually are those keywords! Well, there are a few principles to keep in mind:
Synonyms are Important
Commonly used synonyms are what search engines look for. For example, "jobs for doctors" is one key phrase, but if your ad also contains "jobs for physicians", then that's even better.
Get Into More Detail
Potential candidates tend to have a specific job in mind when they search. So, don't just include the most obvious keywords, but also some which are relevant to your institution.
The Reputation of a Name
Every recruiter wants to get their organization name better known. If it is, then it will pop up higher on Google. Consequently, you should make use of the reputation you have built up and which is inherent in your organization's name. Ultimately, SEO is just one of the disciplines that have emerged in modern healthcare. The whole scene is constantly evolving, so you need to keep up.